B-CREK: for a healthy, natural and balanced diet
Our story
"B-CREK, a dream come true."
Our professional journey in the restaurant industry started 35 years ago. During these years we have gained knowledge (Escola d'Hostaleria i Escola de Turisme de Girona), we have become professionals working in business management and in hotel establishments and we have enriched our experience in the industry thanks to international trips and foreign contacts. After some time, our dream came true: B-CREK was born in Olot.
2001
B-CREK Clarà
We opened the first establishment, specialised in sandwiches, salads and juices.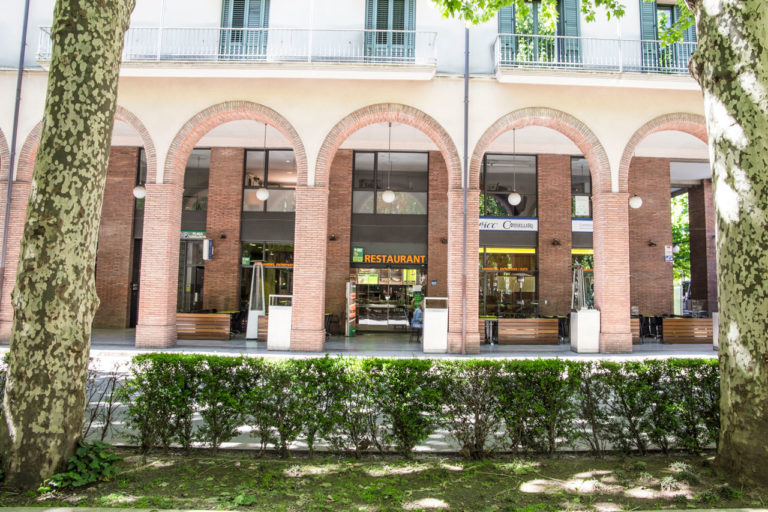 2006
B-CREK Solfa
Five years later we opened the second establishment, a grill and dining restaurant.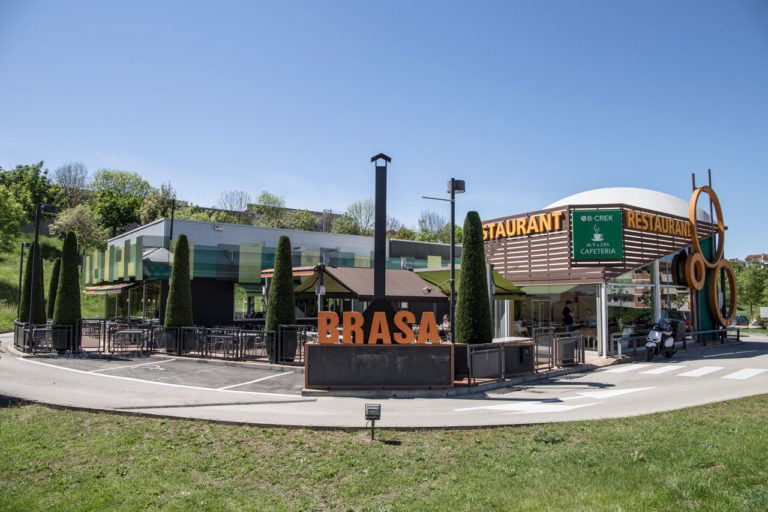 And later on...
B-CREK Catering
A service offered for businesses and individuals.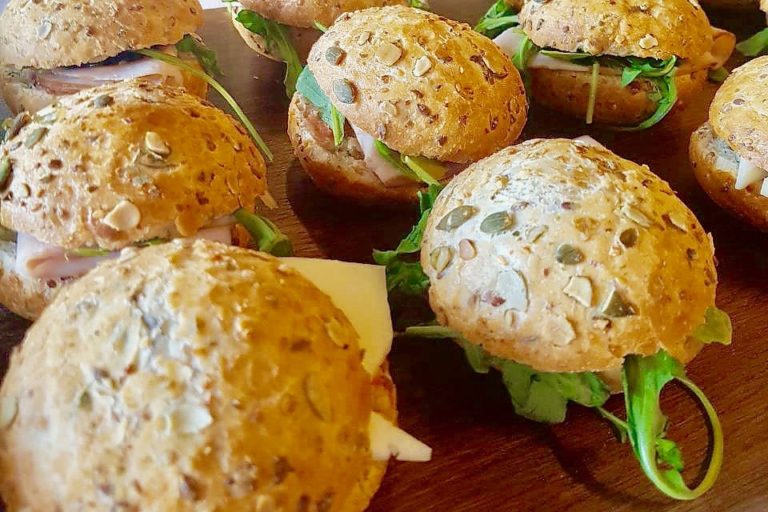 B-CREK Shop
Online order service.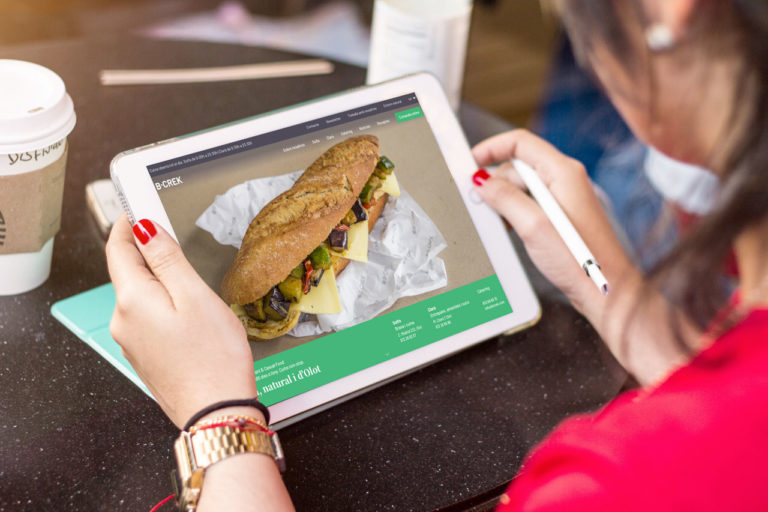 B-CREK at home delivery
At home delivery service or wherever you like.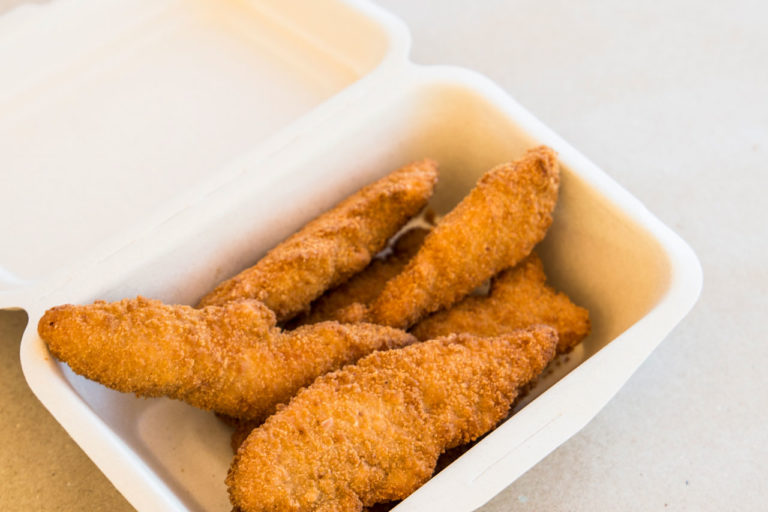 Values
All of this has been possible thanks to the passion and eagerness which we pour into what we do every day; into the innovation, into following the newest gastronomic trends; into the dedication and the involvement (we open 365 days a year with non-stop service), and above all, thanks to the professionalism of the team of people that are a part of B-CREK.
Where does the name B-CREK come from? Easy! Since everything started with sandwiches, we made an etymological and onomatopoeic mix: we took the B from the word "bocata" (sandwich in Catalan slang) and 'CREK' is the result of the sound that crispy bread makes when it is broken in half.
Our vision
B-CREK was born with a clear and well-defined idea inside the sector: casual food, a new trend in food that is all about consumer's awareness about the importance and necessity of a healthy diet. A sector where we could develop, transfer and strengthen our views on a cuisine that:
Is healthy, natural and balanced
Is simple and global
Is respectful with the environment
Has contemporary touches
Uses local and good quality products
Has an agile and friendly service
Our commitment
Quality and proximity
We use local and good quality products bought from trustworthy suppliers located as near to us as possible. We have a strong commitment with local producers, in order to give life to a menu with healthy and nutritious dishes.
Some of our suppliers are in the Compra a pagès guide, and others are local commerce producers. Consuming locally sourced products, we bring our way of eating to the area. We are aware of the fact that a healthy life starts with a good diet.
Some of our sandwiches are prepared with clean label bread, a distinctive label that guarantees that the ingredients that are used are 100% natural and free from additives.
Responsible coffee and eco-friendly herbal tea
We support a responsible and sustainable coffee consumption (UTZ certificate), that is respectful with the environment, with the social commitment, and we support sustainable and high-quality trade.
We offer a wide range of organic teas and herbal teas.
We use extra virgin olive oil to prepare our dishes
Sustainability and the environment
Our commitment to the area is reflected in our healthy and fair cuisine.
Accreditation from the CETS since 2013, the European Charter for Sustainable Tourism.
Commitment and respect for the environment.
We support materials and products that have the minimum environmental impact on the area as possible.
Electric vehicle charging point (B-CREK Solfa).
Sustainable at home deliveries. We have electric vehicles that allow us to deliver without emissions.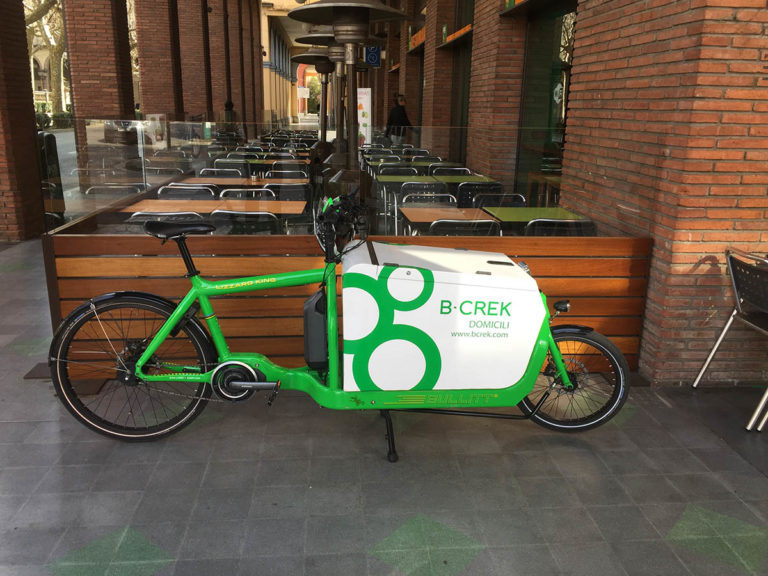 Social responsibility
At B-CREK we are charitable and we collaborate with entities from la Garrotxa that work on social integration and with entities that promote culture. We believe it is necessary to create social synergies that in turn will allow us to build a fairer, healthier and more cultivated society.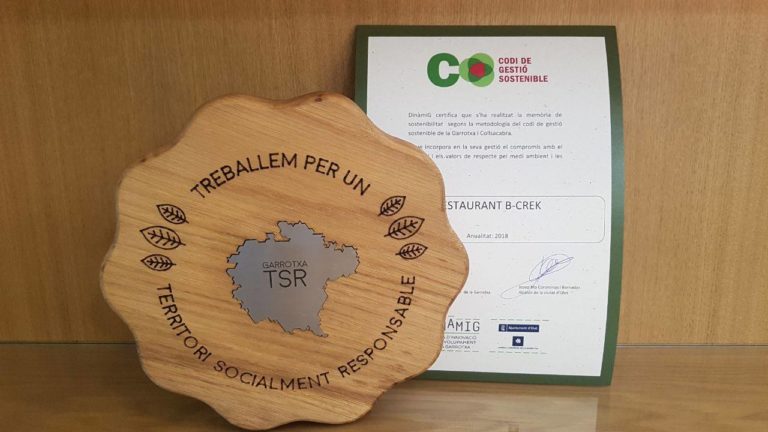 Our services
Non-stop service
We are open 365 days a year with non-stop service.
Dining for everyone
We think of people of all ages, tastes and food choices.
Wi-Fi
Free Wi-Fi for our clients.
Bed & Bike
(B-CREK Solfa) Distinctive Bed & Bike. Services that are suitable for the bicycle tourist: parking for bicycles, tool box for possible repairs, balanced menus.
Information point
(B-CREK Solfa) We are an information point of la Garrotxa that gives quality touristic information.
Kids park
(B-CREK Solfa) You can enjoy a kids park that is right next to the restaurant.
Parking
(B-CREK Solfa) We have a wide parking area for our clients.
Electric vehicles
(B-CREK Solfa) Charging point for electric vehicles.
B-CREK space
(B-CREK Solfa) For business meetings, product presentations, family or friend celebrations.
Almost 20 years after the opening of the first establishment, B-CREK continues to have the values that form part of its DNA, continues developing and innovating, and continues being restless for the newest trends and client's tendencies.